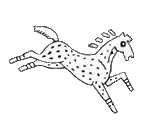 ~ Serving Northeast Oklahoma & Surrounding Areas ~

| Home | Shows | Awards | Officers | Sponsors | Stallions | Mares |
| Geldings | Foals | Calendar | Press | Newsletters | Membership |
| Members | Photos | Classifieds | Sooner Shop | Links |



:: Clothes Classified Ads ::
Would you like to advertise in this space?
Ads for non-Sooner ApHC members are surprisingly economical.
Ads are always FREE for Sooner members!

Your ad will run on this site until your item sells and will be
featured in the most current issue of our bi-monthly newsletter.
For pricing details, send an email with the link below.
** Email the Webmaster **

Looking for great Appaloosa gift ideas?
Check out the these "Spotted" items!
The Sooner ApHC Shop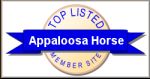 Check out these Appaloosa Horse sites!

| Home | Shows | Awards | Officers | Sponsors | Stallions | Mares |
| Geldings | Foals | Calendar | Press | Newsletters | Membership |
| Members | Photos | Classifieds | Sooner Shop | Links |