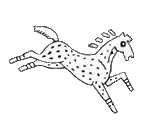 ~ Serving Northeast Oklahoma & Surrounding Areas ~

| Home | Shows | Awards | Officers | Sponsors | Stallions | Mares |
| Geldings | Foals | Calendar | Press | Newsletters | Membership |
| Members | Photos | Classifieds | Sooner Shop | Links |



:: Membership in Our Club ::

We invite you to join our "herd"!
You can contact us with the link below and we will
get in touch with you. Thank you for your interest!
** Email SApHC **
New membership in any organization can be a bit uncomfortable, especially organizations that deal with owning and showing horses! This is where our club is different from many of the other horse clubs. We welcome folks that are new to horse ownership, showing, riding and other areas of horsemanship. Our members range from novice to seasoned professional and span all age groups. We are a diverse group of folks, from varied professions, with unique skills, coming together in our love of Appaloosa horses and desire to further the breed.

Not quite sure this is the group for you? We invite you to join us on our Yahoo group and communicate with our members. You can experience our group, online, and don't even have to leave your house or hitch up your trailer!
Come join us at Sooner-Appaloosa on the Internet!

Heard enough and would like to join us? You can download our membership form, using this link: SApHC Membership Form

We hope to hear from you, very soon, and welcome you to our organization!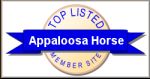 Check out these Appaloosa Horse sites!

| Home | Shows | Awards | Officers | Sponsors | Stallions | Mares |
| Geldings | Foals | Calendar | Press | Newsletters | Membership |
| Members | Photos | Classifieds | Sooner Shop | Links |