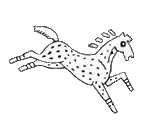 ~ Serving Northeast Oklahoma & Surrounding Areas ~

| Home | Shows | Awards | Officers | Sponsors | Stallions | Mares |
| Geldings | Foals | Calendar | Press | Newsletters | Membership |
| Members | Photos | Classifieds | Sooner Shop | Links |



:: Sooner ApHC Press ::



:: July, 2003 - Appaloosa Journal ::

"Winning Colours"
Americana Appaloosa Futurity
Post Parade Pageantry - Page 55
by Michelle Anderson
~ Used with permission of the Journal ~





Miss Indian Rodeo America Tahnee Harjo represents the Appaloosa's American
Indian heritage.




Fair Meadows Downs selected the Americana Appaloosa Futurity for its April 12, 2003, featured race. Racehorse owner Victoria Ennis of Kingston, Oklahoma, excited by the race's prominent position on the racing form, wanted to draw even more attention to the Americana by making it an event.

She networked with the Oklahoma regional clubs to provide Miss Indian Rodeo America, Tahnee Harjo, with a colored horse to lead the Americana's post parade. Carol Johnson of Inola, president of the Sooner regional club, volunteered her time to bring Haza Chance, a 9 year-old gelding owned by Jim Chronister of Pryor, for Tahnee to ride.
Before competing for her title, 24 year-old Tahnee had never taken professional horseback riding lessons. To prepare for the Miss Indian Rodeo America pageant, she started riding at Letham Stables in Yukon, (Oklahoma) owned by Appaloosa judge John Letham and his wife, ApHC board member, Debby Letham.

The coordination of the Americana's post parade brought together show and racing owners to celebrate the breed, Carol says. She hopes the regional clubs can do even more in the future to show their support of racing.

"It was good publicity and emphasized the history of the breed," Carol adds. "It gave people at the race a chance to see these beautiful Appaloosas and for us to get some positive representation."




Tahnee and Chance get acquainted before the Americana's post parade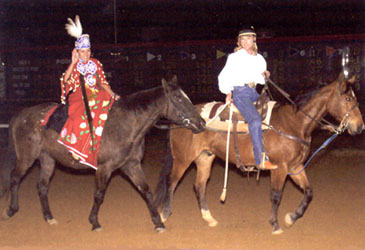 Haza Chance leads the post parade with Miss Indian Rodeo America
Tahnee Harjo aboard. Owner Jim Chronister provided the gelding
with the help of Sooner ApHC president Carol Johnson.
Photo by Gene Wilson and Associates.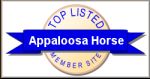 Check out these Appaloosa Horse sites!



| Home | Shows | Awards | Officers | Sponsors | Stallions | Mares |
| Geldings | Foals | Calendar | Press | Newsletters | Membership |
| Members | Photos | Classifieds | Sooner Shop | Links |