I Dream Of Champagne

2006 Amber Champagne w/Blanket & Spots ~ 15.1 hh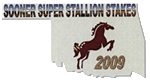 ~ 2009 Season - $300.00 ~
Standing in Lawton, OK

Live Cover Only
No Booking Fee

Special consideration to Appaloosa,
Arabian, Pony and Sporthorse mares

** First foal crop in 2009 **

* Extended Pedigree *

Carries one copy of champagne dilution gene on a bay base coat.
You get unique color with a top of the line pedigree.
Dreamfinder, Goer, and Doc's Prescription in first 3 generations.
Doc Bar, Leo, Poco Tivio, Poco Stampede within 5 generations.
See his webpage for additional information.

Call or e-mail to discuss mare care requirements.
Must be up to date on vaccinations and negative coggins.
Health certificate required on out-of-state mares.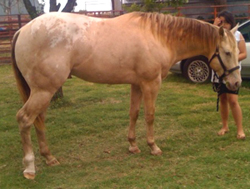 Click on thumbnail for larger view

For additional information, please contact:
Teresa N. Lake
Dream Catcher Ranch
Lawton, OK
Phone: (580) 284-5653
Email: dream_catcher_ranch@earthlink.net