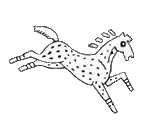 ~ Serving Northeast Oklahoma & Surrounding Areas ~

| Home | Shows | Awards | Officers | Sponsors | Stallions | Mares |
| Geldings | Foals | Calendar | Press | Newsletters | Membership |
| Members | Photos | Classifieds | Sooner Shop | Links |



:: Horse Classified Ads ::
Would you like to advertise in this space?
Ads for non-Sooner ApHC members are surprisingly economical.
Ads are always FREE for Sooner members!

Your ad will run on this site until your horse sells or is leased and will be
featured in the most current issue of our bi-monthly newsletter.
For pricing details, send an email with the link below.
** Email the Webmaster **

~ Our Horses Are Selling FAST! ~



KDJJ Appaloosas is a small family farm located in beautiful, central Upper Peninsula of Michigan. We are only 2 hours North of Greenbay, WI, 2.5 hours from the famous Mackinaw Bridge and 2 hours east of Lynn Palm's Upper Michigan Training facility, Royal Palm Ranch. Come visit us and our beautiful horses. The coffee is always on!

We are proud participants in The Appaloosa Project

Kevin and Dar

Visit Us On The Web!

Email: KDJJ_Appaloosas@yahoo.com

(Updated: 03/21/11)

* Horses and Young Stock For Sale *



Wildwood Appaloosas is a small operation that attends to the smallest details in the care of our horses. We raise three or four quality foals a year that receive the best of care and attention. Our mares are sired by or carry close up breeding to Cowboy Justice, Ultimate Image, Excellor, Prince Plaudit, Dreamfinder and
Impressive Andrew.

Wildwood Appaloosas
288 Highway WW
Wright City Missouri 63390
Telephone 636-745-8872

Visit Our Web Site

Email: Wildwoodapp@aol.com

(Updated: 03/21/11)

* For Sale - ApHC Stallions, Mares and Geldings *


Click on thumbnails for larger view.

Appaloosa stallions, mares and geldings
Some broke to ride, some quiet enough for children.
Check the website or call for details.

John or Debby Letham - 405-373-1133.

Visit Letham Stables

(Updated: 03/21/11)

Didn't Find Any Spots You Like? Check This Site!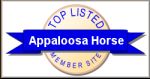 Check out these Appaloosa Horse sites!

| Home | Shows | Awards | Officers | Sponsors | Stallions | Mares |
| Geldings | Foals | Calendar | Press | Newsletters | Membership |
| Members | Photos | Classifieds | Sooner Shop | Links |